Stand-up Magic – entertainment for corporate, associations and other special events
Kristian Skovbo is an International magician and entertainer.
Performing magic at parties and receptions will give your guests an experience to talk about and also serve as an ice-breaker, bringing people together
Kristian will not only astonish your audience, but leave them struck with a sense of awe, amazement and childlike wonder.
"Stand-Up Magic Show"
Is an interactive comedy magic and mind reading show.
Ideal for groups of up to 600, where everybody is entertained at the same time.
Spectators will be included in the show, making it that much more fun…
No stage is necessary for Stand-Up Magic, just a 2 meter by 2 meter area; and the show can range from 20 to 40 minutes depending on the client's desire and  the event schedule.
Company products can become a part of the show.
(Scroll down for video)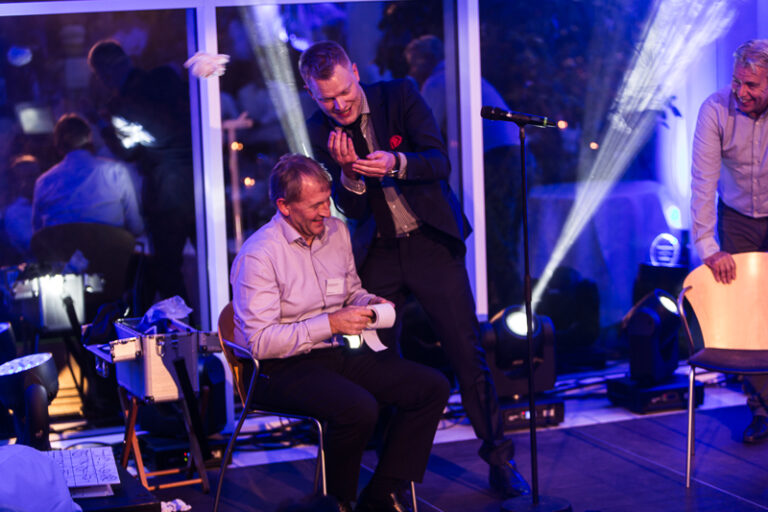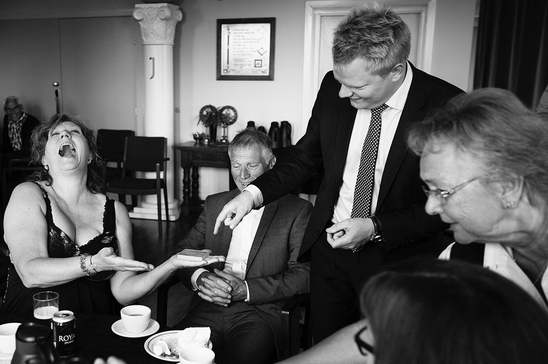 "Walk-around Magic"
Walk-around Magic is a different form of entertainment.
Smaller scale miracles are performed within inches of the audience.
Walk-around Magic allows the audience to get to know the magician, enjoy their humor, and experience the magic at a very close range.
Magic with coins, watches, rings and of course, cards.
Close-up Magic may be performed table to table as at a banquet, or standing and strolling as at a cocktail hour.
(Scroll down for video)
Sales and Kick off-meetings
Looking for a sales meeting that truly motivates?
We all know the situation: a long, long meeting that becomes more and more difficult to sit through.
Kristian's magic may be interspersed throughout the meeting to refresh and invigorate people.
This may be a one-time break in the meeting, or Kristian may entertain a few times throughout the course of the meeting.
Once again, company messages and products may be used during Kristian's performances.
(Scroll down for video)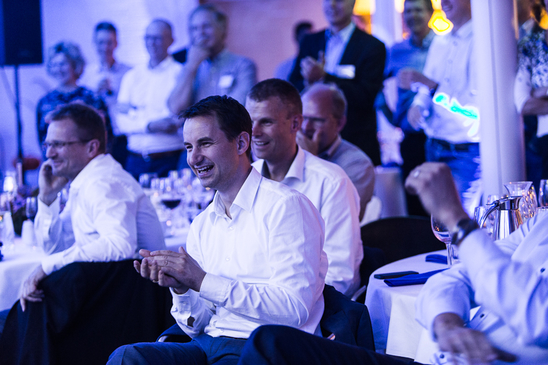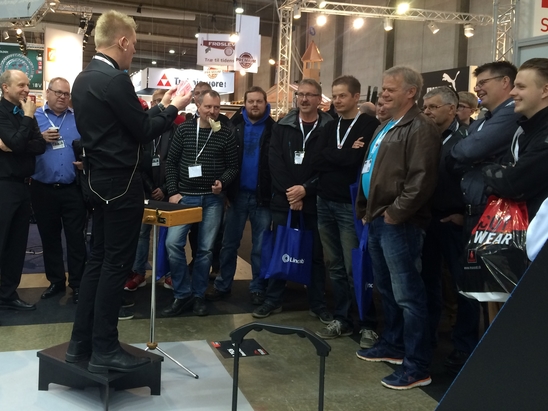 Trade Shows
Kristian works as "people-magnet" at a trade show.
His magic will lure customers and prospects directly to your booth.
He will also deliver your company's message in a way that it will be remembered, and potential customers may then be attended to by your sales people, who may use the ice-breaker effect.
Kristian's show, customized with your company's keywords and slogans, will be presented two times each hour. The show runs for 20 to 25 minutes.
Your company's products and give aways may be incorporated into Kristian's show and is able to perform in fluent English if necessary.
All he needs is a 1.5 X 1.5 meter space in front of your booth.
Master of ceremonies
Need to keep the event moving?
Kristian is an excellent addition to your award show, conference, meeting  or company event.
Using magic and mind reading, Kristian keeps the energy of the event up and removes the predictability of the program – while introducing speakers, housekeeping notes, announcing breaks and adding some frequently needed comedy and mystery along the way.
(Scroll down for video)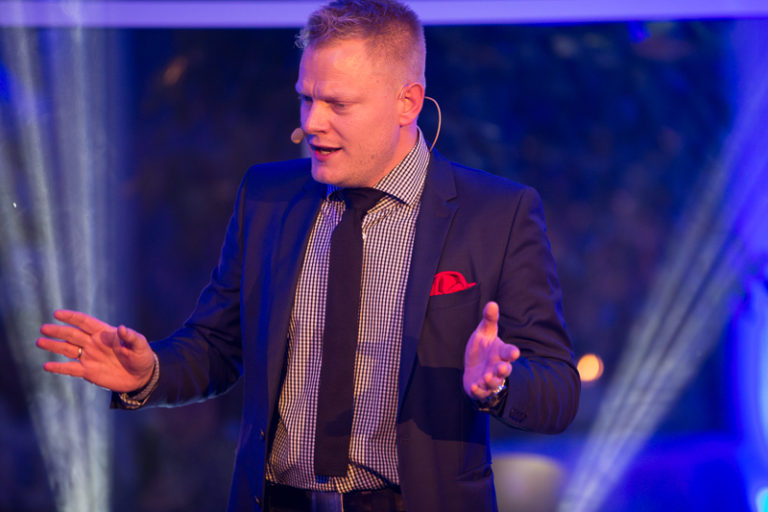 About Kristian
Kristian is a self-taught magician – he first set foot in the local magic store in 1994 and since then his heart has been lost to the trade.
He first was in sales but then made the leap and became a full-time entertainer.
He made his debut at age 10 – a show that had a crowd of 200 people, and in the next decade he would appear in schools and at private parties, quickly gaining experience as a performer.
Kristian's delivery is always enthusiastic and spirited.
In 2004 and 2005 Kristian took a month out of his busy schedule to find inspiration in the US – he even performed at the Magic Castle in Hollywood.
Magic is international entertainment, and Kristian often does his show in English when the situation calls for it, for instance when participants from different countries are brought together to share a common experience.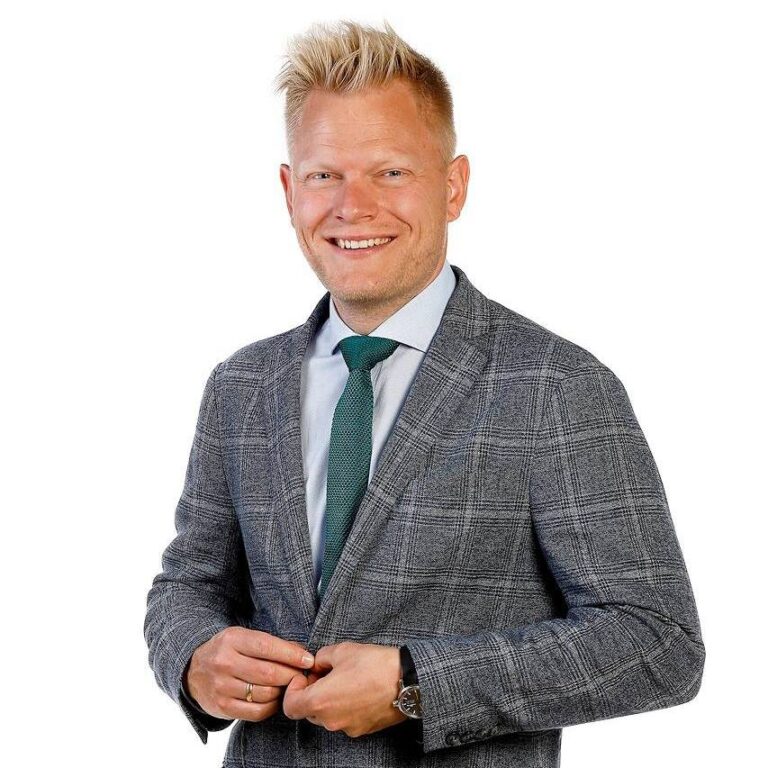 Article from "Vanish Magazine" about Kristian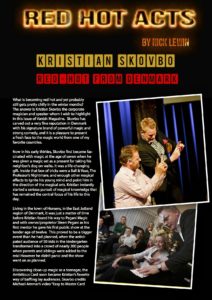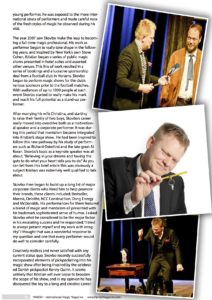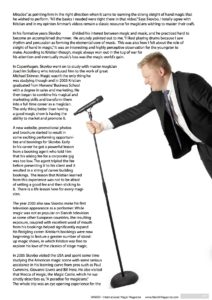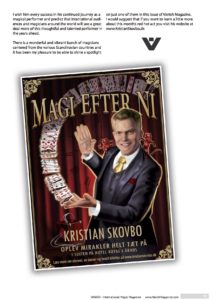 Contact & Booking
Kristian Skovbo
Buen 7
8700 Horsens
Denmark
Cell: 0045 22262046
Skype:KristianSkovbo